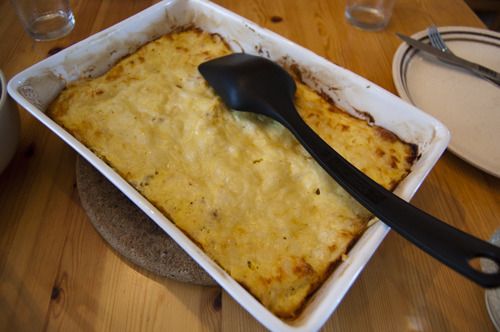 Norsk
500 gram kokt og renset hvit fisk
1/3 l kremfløte
1 liten ts johannesbrødkjernemel
2 eggeplommer
2 eggehviter stivpiskede
salt & pepper
1/2-1 ts muskat
- Kok opp fløten og la det koke 3-4 minutter. Dryss litt og litt johannesbrødkjernemel inn mens det røres kraftig. Smak til med krydder. Sett sasuen til avkjøling.
- Når sausen er blitt kald tilsettes eggeplommene.
- Ha i fisken før det til sutt forsiktig blandes inn stivpiskede eggehviter.
- Ha massen i en smurt ildfast form og stek i ovn på 200 grader.
- La den stå i 20 min, strø på litt revet ost og la den igjen steke i 10-15 min.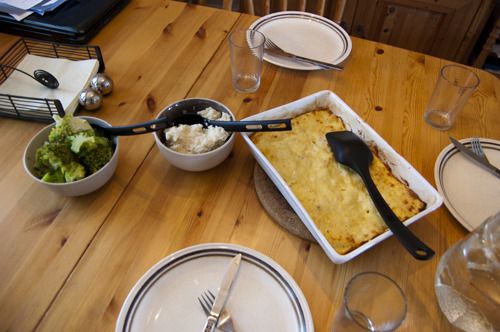 English
500 grams cooked and cleaned white fish
1/3 l cream
1 little ts locust bean gum
2 egg yolks
2 whipped egg whites
salt & pepper
1/2-1 ts nutmeg

- Boil the cream and let it boil for 3-4 minutes. Sprinkle some locust bean gum in while you stirr well. Add spice to taste. Let the sauce cool down.
- Add the egg yolks when the sauce is cold.
- Add the fish before you finally carefully stirr in the whipped egg whites.
- Put it all in a greased dish and put in the oven at 200 degrees.
- Leave it for 20 minutes, sprinkle wit some grated cheese and let put it back in for 10-15 minutes.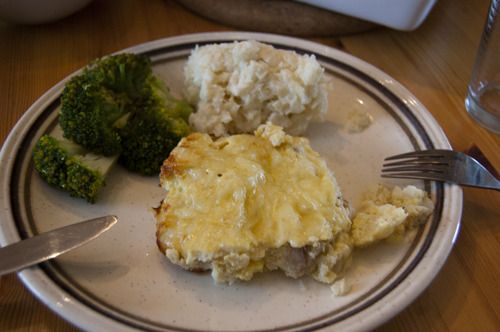 Source