Norsk
1 egg
1,5 dl kremfløte
1 ss bakekakao
1 ss tagatesse
2 1/2 plate gelatin (brukte 1.5 ved et uhell, og det gikk helt fint)
0,5 dl vann
- Legg gelatinplatene i kaldt vann noen minutter.
- Kok opp vannet og ta det av platen.
- Smelt den myke gelatinen oppi det varme vannet. Avkjøl noe.
- Visp fløte og kakao. Når det tykner, tilsett strøsukkererstatningen.
- Skill eggehviten og eggeplommen. Stivpisk eggehviten, og pisk eggeplommen lysegul.
- Vend alt inn i kremen.
- Hell moussen i en bolle eller porsjonsglass og sett den i kjøleskapet.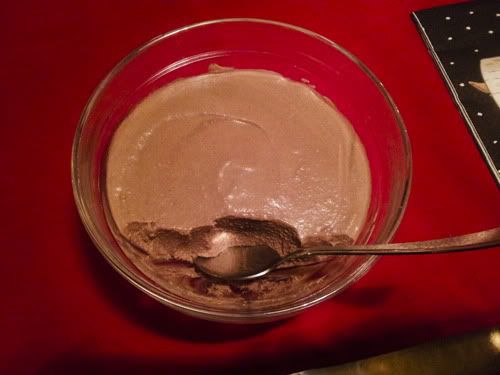 English
1 egg
1.5 dl whipping cream
1 ss cocoa
1 ss tagatesse
2 1/2 plate gelatine
0.5 dl water

- Put the gelatine plates in cold water for a few minutes
- Boil all the water and take it off the hob.
- Melt the soft gelatine in the warm water. Cool down a bit.
- Whip cream and cocoa. When it thickens, add the sweetening.
- Separate the egg. Whip the egg white stiff and whip the egg yold yellow.
- Add everything to the cream.
- Pout mousse in a portion bowl and leave it in the fridge.
Source