This page is slightly outdated now. I have become very liberal in some ways, and more strict in other ways. So let me just emphasise what's good food in one sentence: vegetables, meat, egg, seafood, berries, nuts, more vegetables, the occasional fruits and legumes. (That's not a sentence. (Shut up!)) Have some dairy or oats if you feel like you can too. Boogie woogie!
----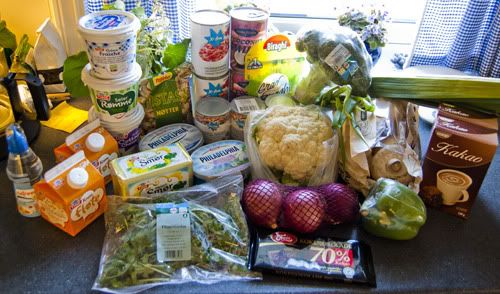 There are things I have in my kitchen on a regular basis... I'll list a few things (linking to the kind I buy, with the carbs in brackets). But first, here's a few general rules:
- Preferably no fat-reduced products
- Less carbs (carbohydrates), especially less sugar and starch, the better
- I don't count sugar alcohols or dietary fibre when counting carbs
(
This pdf-file
might be useful for Norwegian readers)
Dairy products
Real butter
(0.0)
Whipping cream
(2.9)
Crème fraiche
(2.9)
Sour cream
(2.9)
Turkish yoghurt
(5.1)
Cheese
(0.0)
Cream cheese
(3.2)
Cottage cheese
(1.5)
Quark
(4.8)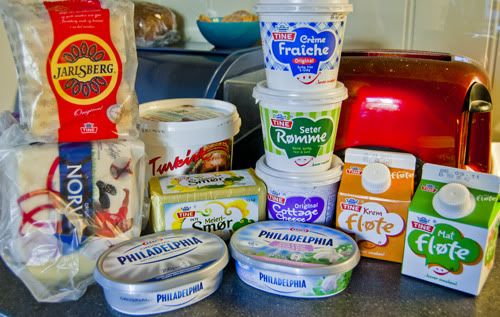 Dinosaurs!
Eggs (0.3)
Unprocessed meat (including fish) (0.0)
Sweetenings
Erythritol
(0.0)
Powdered erythritol
(0.0)
Stevia
(0.0)
Splenda
(100 - when in desperate need)
Tagatesse
Liquid Natreen
Fructose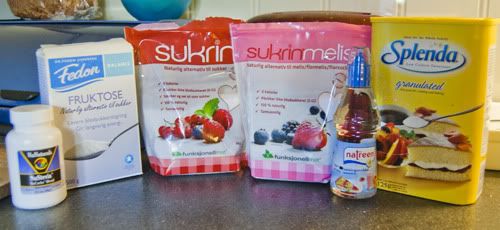 Flour
Locust bean gum
(0.0)
Xanthan Gum
(100?)
Psyllium seed husks
(0.0)
Almond flour
(8.0)
Coconut flour
(4.0)
Soy flour
(3.1 - when in desperate need)
Gluten flour
(20)
Wheat bran
(18.5)
Gram flour/ Besan
(58)
Vegetables
Broccoli (1.9), cauliflower (2.3), tomatoes (~2), tomato puree (12.9), chopped tomatoes (4.0), leeks (3.6), onions (5.7), garlic (16.3), chives (0.8), rocket salad (1.5), paprika (3.3-4.7) , zucchini (3), aubergine (2.2), green beans (3.1), tomatoes (1-3), lettuce (~1)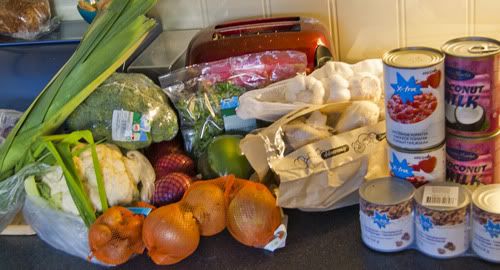 Fruits
Raspberries (3.2), strawberries (6.6), blueberries (7.5), blackberries (7.5), currants (6.9), coconut milk (1.5), coconut cream (2-3), coco (6.4), mushrooms (0.3), avocado (0.5), rhubarb (0.7), lime (0.8), lemon (2.2), cantaloupe (5.6), watermelon (7.6), apples (10), pears (8-9), clementines (8.7)
Nuts
Brazil nuts (3.1), almonds (6.9), hazelnuts (6.0), cashews (18.1), peanuts (12.5), pecans (5.8), pistachios (8.1), walnuts (3.3), macadamia nuts (8)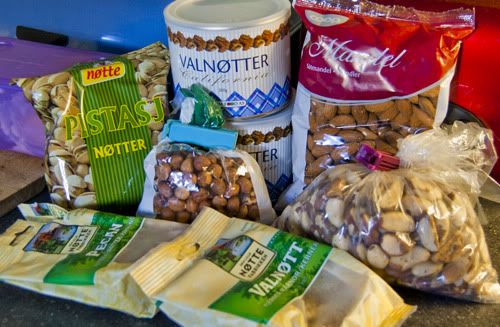 Seeds
flaxseed (0.0 - though unsure), sesame (4.5), sunflower seeds (7.25), pumpkin seeds (12.7), cocoa (11.0)