Sukkerfrie, melfrie, glutenfrie og lavkarbo pepperkaker
Norsk
75 gram smør
3 ss fløte
2 ss sukrinmelis
2 ss tagatesse
2 dl finmalt mel av avskallede mandler (kan byttes ut med _mindre_ mandelmel)
3 ss kokosmel
1/4 ts nellikk
1/4 ts ingefær
1/4 ts pepper (denne dropper jeg)
1 ts kanel
1/2 ts bakepulver
- Smelt smøret forsiktig i en kjele.
- Rør inn fløten og la blandingen kjølne litt.
- Bland alt det tørre for seg, pass på at blandingen blir klumpfri.
- Rør det inn i smøret.
- Sett kjelen kaldt i kjøleskapet noen timer, gjerne over natten.
- Kna og kjevle ut deig (pass på at deigen ikke blir knadd for varm)
- Trykk ut figurer og legg på et bakepapirkledt stekebrett.
- Stekes midt i ovnen ved 175°C i cirka 8 minutter.
- La de avkjøle seg på stekebrettet.
- Pyntes med glasur laget av sukrinmelis og vann.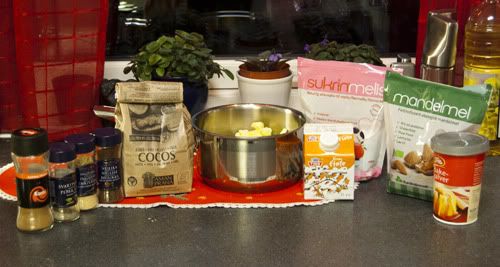 English
75 gram butter
3 tbs cream
2 tbs powdered erythritol
2 tbs tagatesse
2 dl finely ground flour of shelled almonds (can be replaced with _less_ almond flour)
3 tbs coconut flour
1/4 ts ground cloves
1/4 ts ground ginger
1/4 ts ground pepper (I skipped that one)
1 ts cinnamon
1/2 ts baking powder

- Melt butter carefully in a pan.
- Stir in the cream and let the mixture cool down a bit.
- Mix all the dry stuff separately. Make sure it's lump-free.
- Add this to the butter.
- Put the pan in the fridge for a few hours, preferably over night.
- Knead and roll out dough (make sure you don't knead it too hot)
- Press out shapes and put on a baking tray covered with parchment paper.
- Put in the middle of the oven at 175°C for about 8 minutes.
- Let them cool down on the baking tray.
- Decorate with glazed composed of powdered erythritol and water.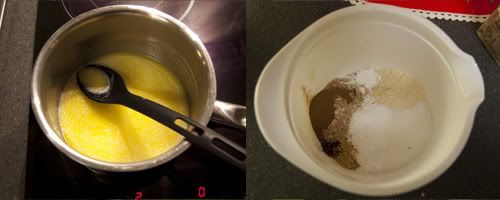 Source