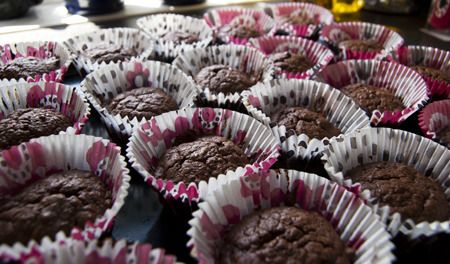 Sukkerfrie, glutenfrie og lavkarbo sjokolademuffins
Norsk
100 g malte hasselnøtter
100 g malte valnøtter
80 g smeltet smør
80-100 g mørk sjokolade (gjerne 86 %)
1/2 dl sukrin
frøene fra en vaniljestang (eller tilsvarende vaniljeekstrakt)
120 g kremost
3 store egg (eller 4 små)
1 toppet ts bakepulver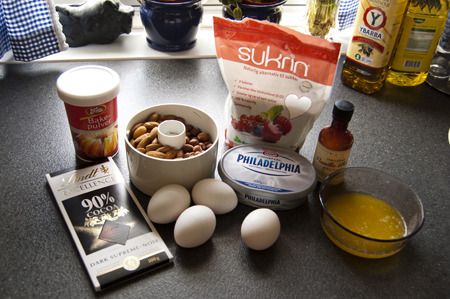 - Mal nøttene i en blender.
- Smelt smør og sjokolade sammen over svak varme.
- Visp sammen egg, kremost og sukrin, gjerne i blenderen.
- Bland sammen alle ingrediensene tilslutt.
- Ha røra i muffinsformer.
- Stek på 180 grader i 15-20 minutter.
- Avkjøl før du spiser.

English
100 g ground hazelnuts
100 g ground walnuts
80 g melted butter
80-100 g dark chocolate
1/2 dl erythritol
seeds from a vanilla bean (or equivalent vanilla extract)
120 g cream cheese
3 large eggs (or 4 small ones)
1 heaped ts baking powder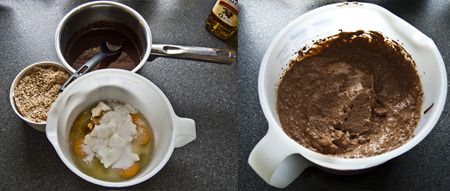 - Ground the nuts in a chopper.
- Melt butter and chocolate together on low heat.
- Whip eggs, cream cheese, erythritol together.
- Mix all the ingredients together.
- Put the batter into muffin cups.
- Put in the oven at 180°C for 15-20 minutes.
- Let them cool down before you eat them.

Source
(might use
this
some day too)