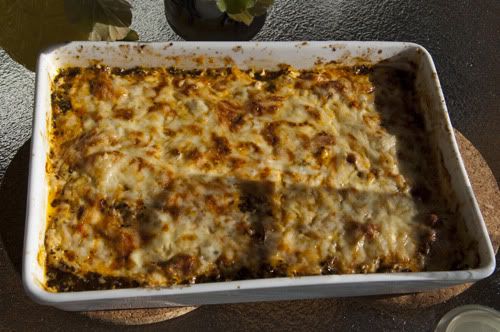 Norsk
1 squash
400-500 g kjøttdeig
1 boks hakkede tomater
hvitløk, tørket oregano, basilikum, salt + pepper
1.5 dl fløte
Masse ost
- Skjær squashen i tynne skiver med ostehøvel. Legg de på tørkepapir og strø salt over for å få ut noe av fuktigheten.
- Stek kjøttdeigen med salt og pepper
- Hell i boksen med hakkede tomater + hvitløk, basilikum, oregano
- La det stå på svak varme i 10 minutter
- Legg et lag med squash i bunnen av en ildfast form, så et lag med kjøttblanding - squash - kjøtt osv. Avslutt med kjøttblandingen.
- Hell så over 1.5 dl fløte og dryss masse ost over.
- Sett inn i midten av ovnen på 200°C i 30 minutter.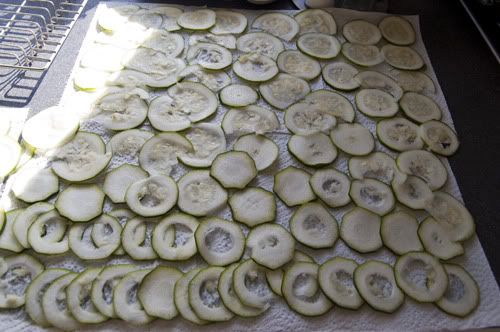 English
1 courgette
400-500 g minced meat
1 box of chopped tomatoes
garlic, dried oregano, basil, salt, pepper
1.5 dl cream
Lots of cheese

- Slice the squash in thin slices with a cheese slicer. Put them on Skjær squashen i tynne skiver med ostehøvel. Legg de på tissues and sprinkle with salt to get some of the wet stuff out.
- Fry the meat with salt and pepper
- Add the box with chopped tomatoes + garlic, basil, oregano
- Leave it on low heat for 10 minutes
- Put a layer of courgette slices at the bottom of a dish, then a layer of meat - courgette - meat and so on. Finish with meat.
- Pour the cream over it and sprinkle with lots of cheese.
- Put in the oven at 200°C for 30 minutes.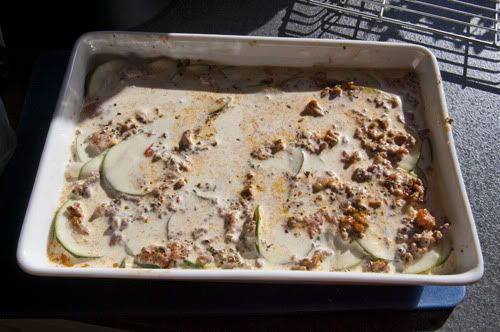 Source