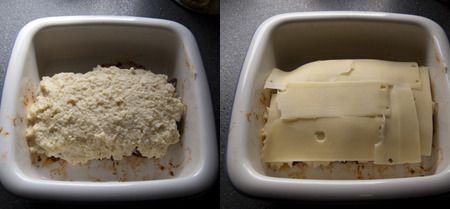 Norsk
Kjøttsaus:
150-200 gram kjøttdeig
2 ss tomatpure
1/2-1 dl vann
Krydder som for eks. salt, pepper, chili, hvitløk og pizzakrydder etter smak
Sellerirotmos:
Ca. 150 gram sellerirot
2 ss kremfløte
1/2 ss smør
Salt, pepper etter smak
Ost til topping
- Kjøttsaus: Stek kjøttdeig, tilsett tomatpuré og vann. Kok til det tykner.
- Sellerirotmos: Kok sellerirot i smøbiter til de er møre og sil ut vannet.
- Bruk stavmikser til å blande sellerirotbitene og resten av ingrediensene.
- Legg kjøttsausen i en liten ildfast form med mos på toppen og dekk med ost.
- Steikes i ovnen på 225 grader i ca. 20 minutter, til osten er gyllen brun.
- Server med salat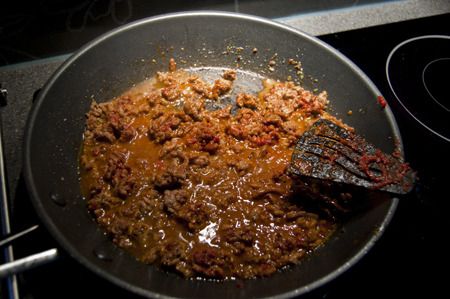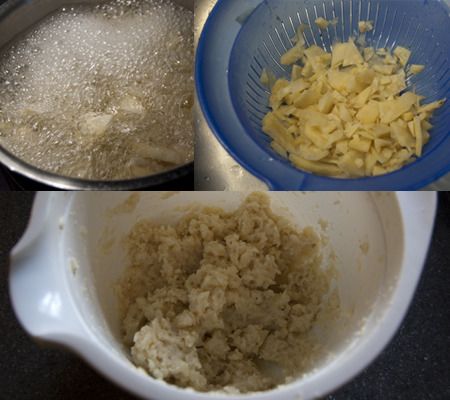 English
Meat sauce:
150-200 g minced meat
2 tbs tomato puré
1/2-1 dl water
Spice like salt, pepper, chilli, garlic or pizza spice (whatever you like)

Mashed celeriac:
about 150 g celeriac
2 tbs cream
1/2 tbs butter
Salt, pepper to taste
Cheese for topping

- Meat sauce: Fry meat, add tomato puré and water. Fry until it's thick.
- Mashed celeriac: Boil the celeriac in little pieces until they are tender and pour out the water.
- Use a mixer to mix the celeriac pieces and the rest of the ingredients.
- Put the meat sauce in a small dish and add the mash on top and cover with cheese.
- Put in the oven at 225 degrees for about 20 minutes, until the cheese is golden.
- Serve with salad.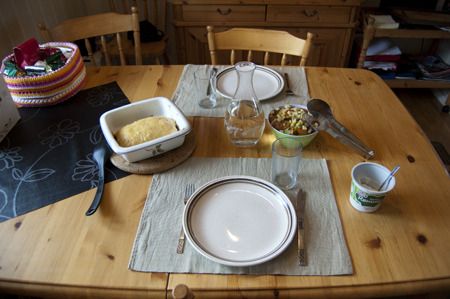 Source