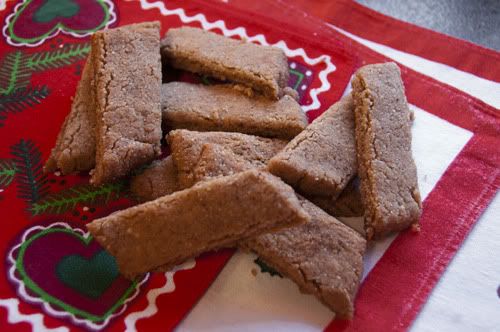 Sukkerfrie og lavkarbo karamellstenger
Norsk
100 g mykt smør*
3/4 dl tagatesse*
2 dl mandelmel
1/4 dl glutenmel (hvetegluten)
1/2 ts vaniljepulver
1/2 ts natron
- Rør smør og tagatesse lyst og luftig
- Bland det tørre og ha i.
- Del deigen i to og rull til to pølser som trykkes flate på bakepapirkledd stekeplate.
- Stekes på 150 grader midt i ovnen 12-15 min.
- La de avkjøle nesten helt på stekeplata, skråskjær og legges på rist til de er helt avkjølt.
- Oppbevares i kakeboks.
English
100 g soft butter*
3/4 dl tagatesse* (tagatose sweetener)
2 dl almond flour (fat reduced)
1/4 dl wheat gluten
1/2 ts vanilla powder
1/2 ts baking soda

- Stir together butter and tagetesse light and fluffy
- Mix and add the dry stuff.
- Separate the dough in half and roll it into two sausages which you press flat on a parchment paper covered baking tray.
- Put in the middle of the oven at 150 degrees for 12-15 minutes.
- Let them cool down almost entirely on the baking tray, cut them slanted and put on a grid until they are entirely cooled down.
- Keep in a cookie jar.

*Tagged vegan and dairy free as I imagine you could replace the butter and sweetening with something according to your diet.
Source