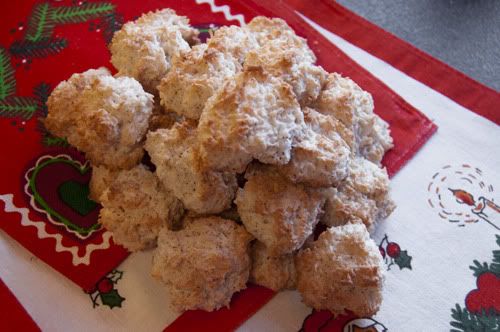 Lavkarbo og sukkerfrie kokosmakroner
Norsk
- ca 31 stk
4 eggehviter
140 g sukrinmelis
1/2 ts vanilje (bourbon)
250 g kokosmasse
- Pisk eggehvite og melis helt stiv.
- Bland fosriktig inn kokos og vanilje.
- Bruk en t-skje pluss hånden til lage topper og sett de på bakepapirkledd plate
- Putt i ovnen på 180 grader i 10-15 min. Følg med, de skal være sprø utenpå og myke inni.
- Oppbevares i tett boks.
English
4 egg whites
140 g powdered erythritol
1/2 ts vanilla
250 g dessicated coconut

- Whip egg white and powdered erytritol until stiff.
- Mix carefully with coconut and vanilla.
- Use a teaspoon plus your hand to make tops and put them on a parchment paper covered baking tray.
- Put in the oven at 180 degrees for 10-15 minutes. Pay close attention, they should be crispy on the outside and soft on the inside.
- Keep in a concealed box.
Source