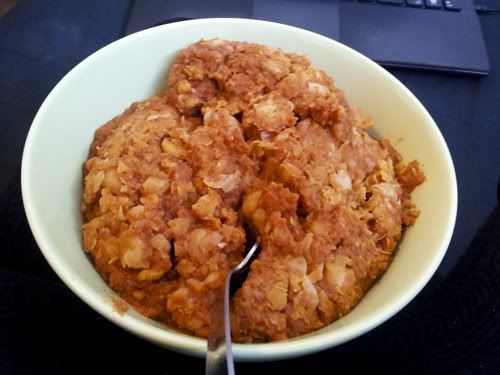 Norsk
1 løk
1/2 boks hermetiske tomater
2-3 hvitløkfedd
2 ss revet ingefær/ 1 ts ingefærpulver
1 boks hermetiske kikerter
1/2 ts kardemommefrø/ 1/4 ts kardemommepulver
malt pepper etter smak
1/4 ts gurkemeie
1/2 ss korianderpulver
1/2 ts spisskummin
1 ts garam masala
1 dl mandelmelk (kan erstattes)
- Bland sammen løken, tomatene, hvitløk og ginger paste i en chopper til det er glatt.
- Varm oljen i en kaserolle på medium-høy varme og tilsett laubærblad, nellik, kardemomme, og pepper. Kok i ca 1 minutt.
- Tilsett løktomatblandingen og kok i 5 minutter.
- Tilsett spisskummin, koriander, gurkemeie, og garam masala. Kok i ytterligre 5 minutter.
- Tilsett avrente/rensede kikerter. Rør til de er dekt.
- Tilsett en klype salt etter smak.
- Tilsett mandelmelk.
- La det småkoke, tildekt, i 10 minutter.
- Bruke en potetmoser (eller stor skje) til å mose kikertene lett. Ikke mos dem helt, bare litt.
Speedy version
Mix 1 onion, tomato puree, garlic cloves, ginger and 1/2 can of chopped tomatoes smooth in a chopper.
Cook this in a saucepan and add 1/4 ts cardamom, ground pepper to taste, 1/4 ts turmeric powder, 1/2 tbs coriander powder, 1/2 ts ground cumin, 1 ts garam masala.
Mix, cook, and add 1 dl almond milk and 1 can of rinsed chickpeas.
Mix and cook more until it's thicker and then mash the chickpeas somewhat.

English
1 onion
1/2 can tomatoes
2-3 garlic cloves
2 tbs grated kinger/ 1 ts ginger powder
1 can chickpeas
1/4 ts cardamom
ground pepper to taste
1/4 ts turmeric powder
1/2 tbs coriander powder
1/2 ts cumin
1 ts garam masala
1 dl almond milk (can be substituted)

- Mix together the onion, tomatoes, garlic, ginger paste until smooth in a chopper.
- Heat the oil in a pot over medium-high heat and add the bay leaves, ground cloves, cardamom seeds, and pepper. Cook for ~1 minute.
- Add in the onion-garlic-tomato mixture and cook for 5 minutes.
- Add the cumin, coriander, tumeric, and garam masala. Cook for another 5 minutes.
- Add the drained/rinsed chickpeas to the mix. Stir until covered.
- Add a pinch of salt to taste.
- Add the almond milk.
- Cook at a simmer, covered, for 10 minutes.
- Use a potato masher (or big spoon) to lightly mash the chickpeas. You don't want them totally mashed, just somewhat.
Source