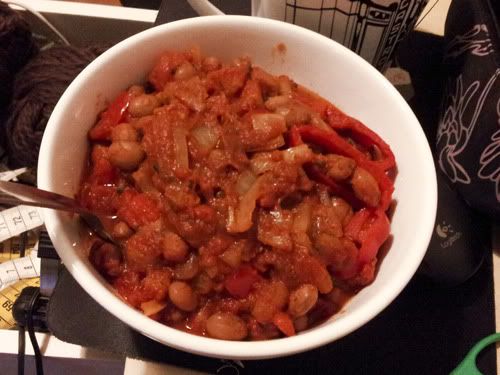 Note that the different pictures varies in the amount of meat and vegetables as well as type of beans. You can omit the beans for more meat or vice versa.
Norsk
- en porsjon, i varierende størrelse
100-150 g kjøttdeig eller karbonadedeig
1/2-1 finhakket løk
2 båter finhakket hvitløk
1/4-1 boks hermetiske tomater
100 g hermetiske bønner
1/2-1 rød paprika i biter
smak til med chilipulver (det skal så lite til)
1/2 ts spisskummen
smak til med salt
- Brun kjøttet med løk og hvitløk i en stekepanne
- Hell over tomatene og la det surre i 3-4 minutter
- Tilsett bønnene, paprika og krydder. La det koke i noen få minutter.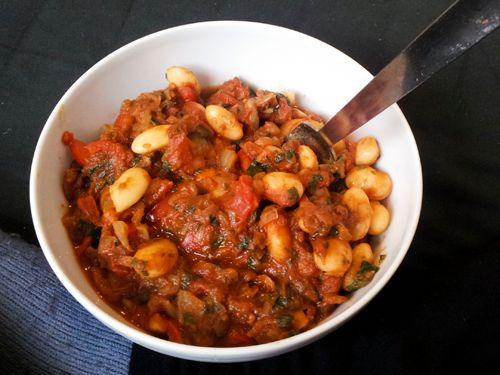 English
- one portion, in varying size
100-150 g mince meat
1/2-1 chopped onion
2 garlic cloves
1/4-1 box canned tomatoes
100 g canned beans
1/2/1 red pepper, chopped
add chili powder to taste
1/2 ts ground cumin
add salt to taste

- Brown the meat with oinion and garlic in a frying pan
- Add the tomatoes and let it simmer for 3-4 minutes
- Add the beans, peppers and spice. Let it boil for a few minutes.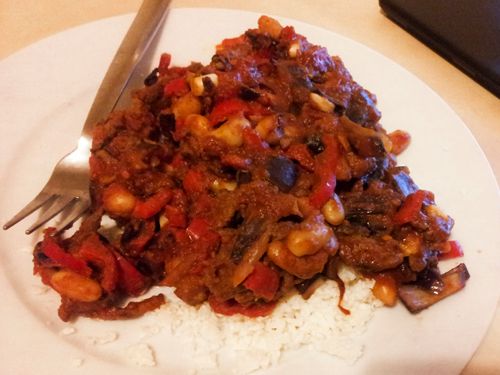 With cauliflower rice
Source