Norsk
Sopp
: skjær opp og stek i olje. Krydre med litt salt, pepper, timian, salvie, rosmarin og merian.
Kylling
: Ha i en pose med fajitaskrydder og knust bacongull. Stek i stekepanne og ha over revet ost som du smelter enten i mikroen eller i stekepannen.
Squash
: Riv, tørk og ha i mikroen. Ha over pastasaus (f eks den fra Rema)
Paprika
: Grill i ovnen eller på grill til den er svart og stygg. Ta av det svarte stygge og nyt.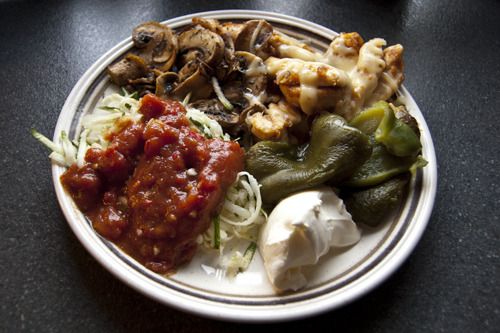 English
Mushrooms: slive up and fry in oil. Add a little salt, pepper, thyme, salvia, rosemary and marjoram.
Chicken: Put it a bag with fajitas spice and crushed bacon crisps (real bacon). Fry in a frying pan and cover with grated cheese which you melt in either the microwave or in the frying pan.
Courgette: Grate, dry and put in the microwave. Add pasta sauce.
Pepper: Grill in the oven or on the barbecue until it's black and ugly. Remove the black ugly stuff and enjoy.
Source: my stupid idea