Norsk
8 (2) porsjoner
4 (1) egg
8 (2) gelatinplater
2 (0.5) dl vann
2 (0.5) dl fun light
5 (1.25) dl kremfløte
- Legg gelatinplatene i vann i fem minutter så de blir myke.
- Vri dem opp litt og smelt de på svak varme.
- Visp kremfløten og eggehvittene stive i hver sine boller med mixer.
- Visp sammen fun-light og eggeplommene og hell i gelatinen mens du visper godt i en tredje bolle.
- Rør inn kremfløten forsiktig, så eggehvittene.
- Ha røra over i en serverings- eller porsjonsform og la det stå i kjøleskapet en times tid.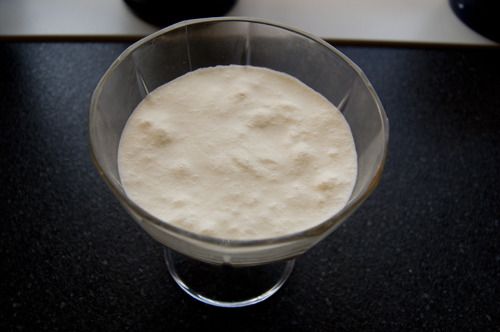 English
8 (2) portions

4 (1) eggs
8 (2) gelatin plates
2 (0.5) dl water
2 (0.5) dl fun light
5 (1.25) dl cream

- Put the gelatin plates in water for 5 minutes.
- Sqeese them and melt them on weak heat.
- Whip the cream and egg whites stiff in each bowl with a mixer.
- Whip fun light and the egg yolks and pour the gelatin in while you whip well in a third bowl.
- Stirr in the cream carefully, then the egg whites.
- Pour the batter into a serving- or portion bowl and leave it in the fridge for an hour.
Source