Melfrie, glutenfrie, sukkerfrie og lavkarbo peanøtt cookies
Norsk
100 g meierismør
1 Egg
32 g Mandelmel
1 ts Bakepulver
2 ss Peanøttsmør
10-15 g salte peanøtter
- Visp smør og sukrin hvitt og så tilsett egget, mandelmelet, bakepulveret og peanøttsmøret i den rekkefølgen.
- Bruk en spiseskje til å sette små topper på bakepapiret.
- Stek midt i ovnen ved 175 grader i 15 minutter.
- La de avkjøle seg på stekebrettet, og legg de så over på en tallerken og la de bli helt kalde i kjøleskapet. Dette gjør at kakene får satt seg ordentlig. Disse cookiesene er sprø når de er kalde.
Pynt gjerne med noen salte peanøtter på toppen før steking.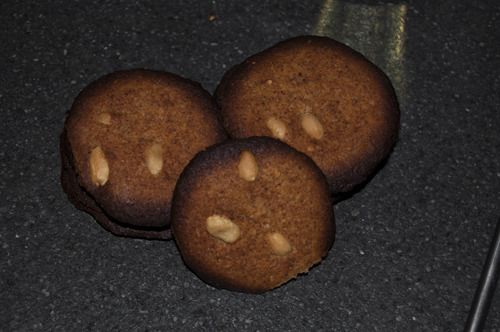 English
100 g butter
1 egg
32 g almond flour
1 ts baking powder
2 tbs peanut butter
10-15 g salted peanuts

- Whip butter and erythirol white and then add the egg, almond flour, baking powder and peanut butter in that order.
- Use a table spoon to add small portions on the baking tray (12).
- Put in the middle of the oven at 175 degrees for 15 minutes.
- Let them cool down on the baking tray, and put them on a plate and let them get completely cold in the fridge. This makes the cookies more crunchy.

Do decorate with some salty peanuts on top before baking.
Source: Fristende Lavkarbo