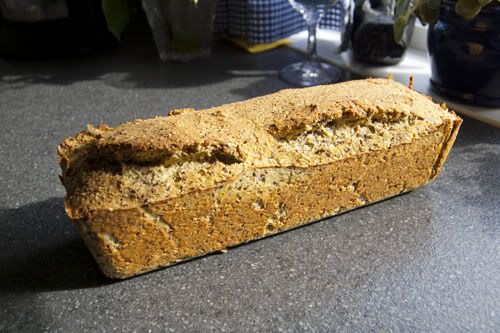 Norsk
300 g cottage cheese
7 egg
1/2 ts salt (ca)
100 g pofiber (av Semper)
100 g sesamfrø
150 g knuste linfrø
1 dl smeltet smør (ca)
Litt natron, et par klyper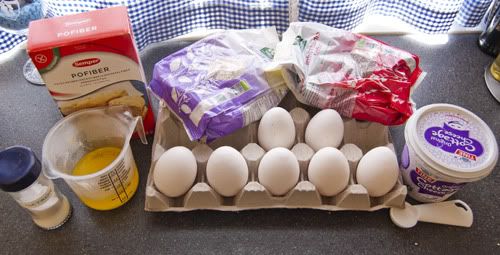 - Få cottage cheese klumpfri og eggene til eggedosiskonsistens.
- Bland alle ingredienser, men vær forsiktig med natron. For mye gjør at brødet sprekker på toppen. En
liten
ts er mer en nok.
- Stek brødet på i underkant av 200°C i en time.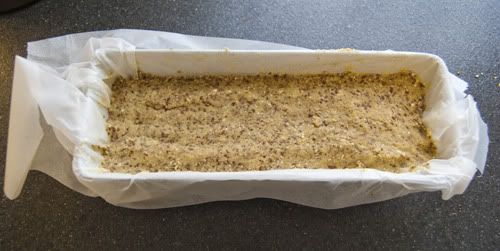 English
300 g cottage cheese
7 eggs
1/2 ts salt (approx)
100 g "pofiber" (of Semper)
100 g sesame
150 g crushed flax seeds
1 dl melted butter (approx)
A little baking soda, a couple of pinches

- Get the cottage cheese lump free and the eggs to eggnog consistency.
- Mix all of the ingredients, but be careful with the baking soda. Too much makes the bread crack at the top. A tiny ts is plenty.
- Bake the bread at just under 200°C for an hour.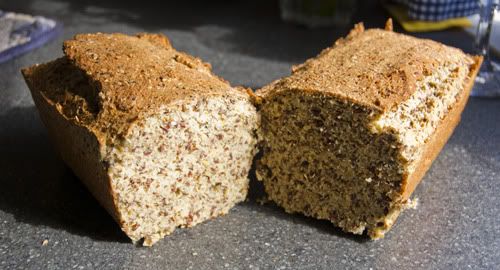 Source