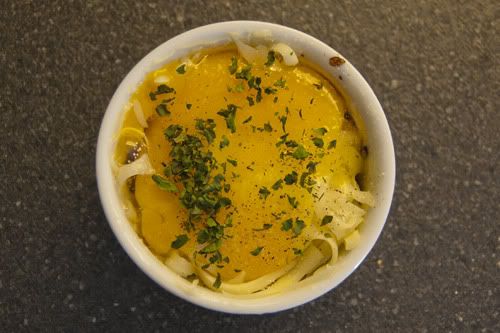 (This is what it looks like before you put it in the oven)
Norsk
1/4 liten løk
2 skiver bacon
1-2 cherrytomater
revet ost
1 egg
salt
pepper
persille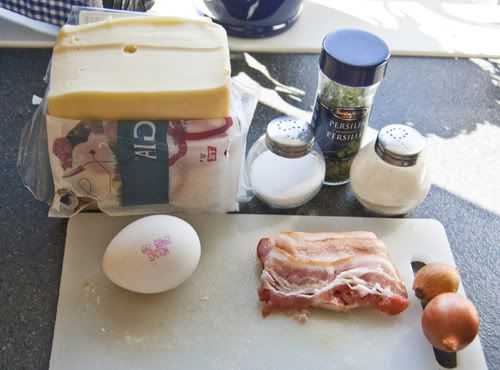 - Finhakk løk, skjær bacon i terninger og grovhakk tomatene.
- Stek løken blank. Ha deretter i bacon og tomat og stek noen minutter til.
- Ha blandingen i en smurt porsjonsform som tåler varme.
- Strø over revet ost og knekk et egg over. Stikk hull på plommen hvis den fremdeles er hel.
- Stek midt i ovnen ved 175 grader i ca 15 minutter.
- Strø over salt, pepper og persille.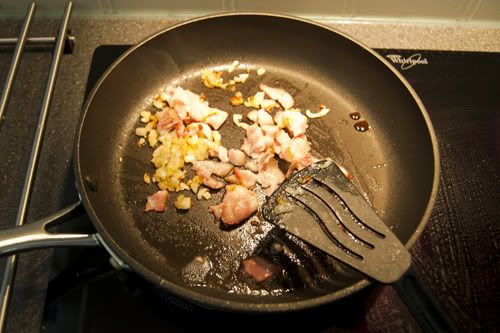 English
1/4 small onion
2 slices of bacon
1-2 cherry tomatoes
grated cheese
1 egg
salt
pepper
parsley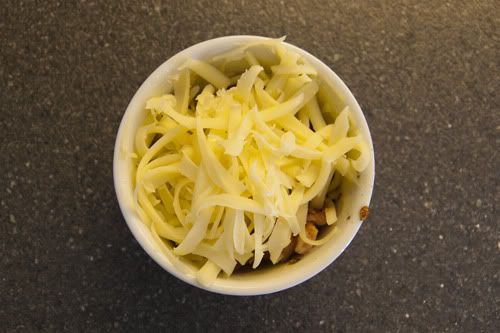 - Finely chop onion, slice the bacon into cubes and roughly chop the tomatoes.
- Fry the onions until translucent. Have then the bacon and tomato and cook a few minutes.
- Put the mixture into a bowl that can take some heat.
- Sprinkle with grated cheese and crack an egg over it. Pierce the yolk if it is still whole.
- Put in the middle of the oven at 175ºC for about 15 minutes.
- Sprinkle with salt, pepper and parsley.
Source