Norsk
1 eggeplomme
20 g sukrin
5 g mandelmel
1 1/2 dl kremfløte
1/2 ts vaniljepulver
1 ss pulverkaffe
1 ss vann
1/2 ss sukrinmelis
Hakket sukkerfri sjokolade
- Ha eggeplommen og ca 1/3 av sukrinen i en bolle og pisk det til eggedosis.
- Putt resten av sukrinen, mandelmel, 1/2 dl kremfløte og vaniljepulver i en kjele.
- Kok opp under omrøring.
- Tilsett eggedosisen, rør sammen og la det koke i et par minutter.
- Ta kjelen av platen og avkjøl. Rør om innimellom så det ikke danner seg snerk.
- Kok opp vannet og tilsett pulverkaffe. Rør så pulveret løser seg opp og sett til avkjøling.
- Pisk resten av kremfløten og sukrinmelis stivt. Vend forsiktig inn vaniljekremen og kaffeblandingen med en slikkepott.
- Strø over litt hakket sukkerfri sjokolade før servering.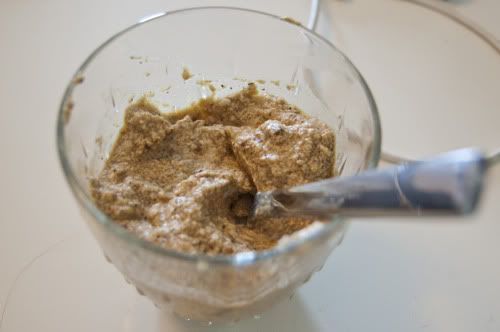 Sorry I forgot to take the progress photos for this. Didn't think it would turn out well. I'm not that big on coffee, so maybe a bit more whipped cream next time.
English
1 egg yolk
20 g erythritol
5 g almond flour
1 1/2 dl cream
1/2 ts vanilla powder
1 tbs instant coffee
1 tbs water
1/2 tbs powdered erythritol
Chopped sugar free chocolate

- Put the egg yolk and 1/3 of the erythritol in a bowl and whip to eggnog.
- Put the rest of the erythitol, almond flour, 1/2 dl cream and vanilla powder in a saucepan.
- Boil during stirring.
- Add the eggnog, stir together and let it boil a couple of minutes.
- Take the saucepan off and cool. Stir occasionally.
- Boil the water and add instant coffee. Stir so that the powder dissolves and cool it down.
- Whip the rest of the cream and erythritol stiff. Fold it carefully into the vanilla cream and coffe mixture with a spatula.
- Sprinkle with some chopped sugar free chocolate before serving.
Source