Norsk
80 g smør
120 g hvitost
4 store egg
120 g mandler
120 g valnøtter
1 ts bakepulver
Evt olivenolje til pensling
- Smelt smøret, riv osten og pisk eggene lett med en visp eller gaffel.
- Mal mandler og valnøtter med en mandelkvern eller en foodprocessor.
- Tilsett smør, ost, mandler, nøtter og bakepulver i eggemassen.
- Tilsett litt vann hvis røren blir for tørr.
- Fordel røren i formene, stek sconesene midt i ovnen ved 180 ºC i ca. 15 minutter og la dem avkjøles før de tas ut av formene.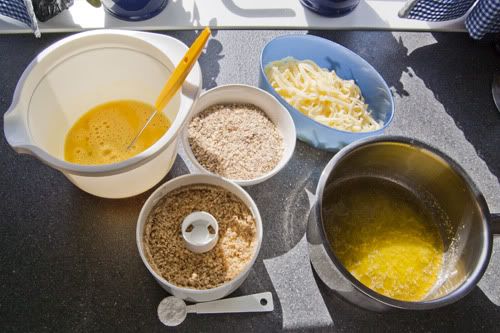 Variasjon: Stekte baconbiter, oppskåret kokt skinke, spekeskinke eller reker og ulike krydder og urter kan tilsettes røren.
Tips: Scones egner seg godt til frysing. De holder seg i kjøleskap i ca. 2 dager i en boks, men scones er best ferske eller varmet opp fra frossen tilstand. Disse er fine å ha i vesken som et raskt måltid.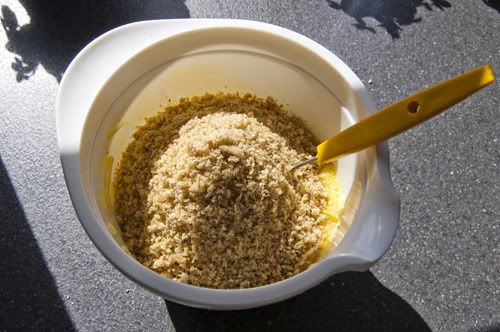 English
80 g butter
120 g cheese
4 large eggs
120 g almonds
120 g walnuts
1 ts baking powder
Optional: olive oil for basting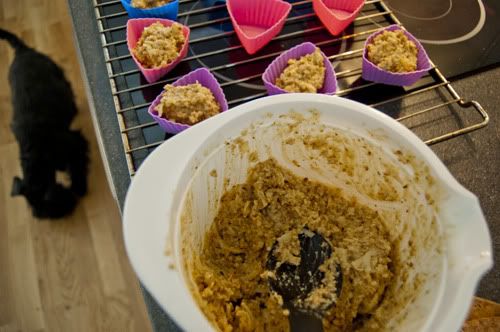 - Melt the butter, grate the cheese, and whip the eggs lightly with a whip or a fork.
- Crush the almonds and walnuts with an almond grinder or food processor.
- Add butter, cheese, almonds, walnuts and the baking powder in the egg mixture.
- Add some water if the mixture is too dry.
- Distribute the mixture in the muffin forms, put in the middle of the oven at 180 ºC for about 15 minutes and let them cool down before taking them out of the forms.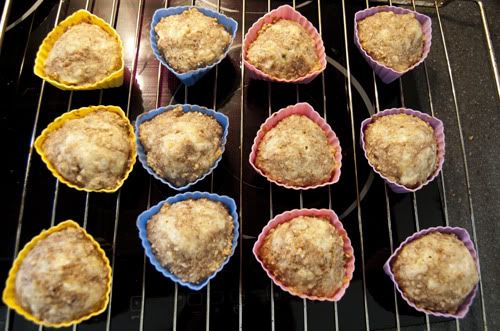 Variation: Fried pieces of bacon, pieces of ham or shrimps and different spices and herbs can be added to the mixture.

Tips: Scones can be frozen. They can be in the fridge for about 2 days in a box, but scones are best fresh or heated from frozen state. These are good to have in your bag for a quick meal.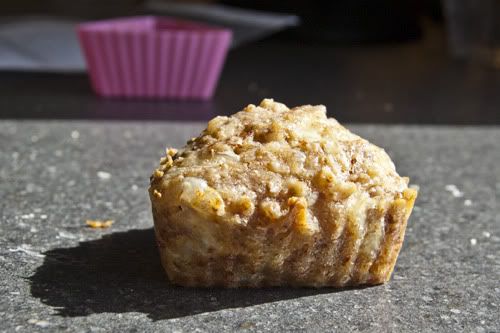 Source: Sofie Hexeberg's "Frisk med Lavkarbo" book.