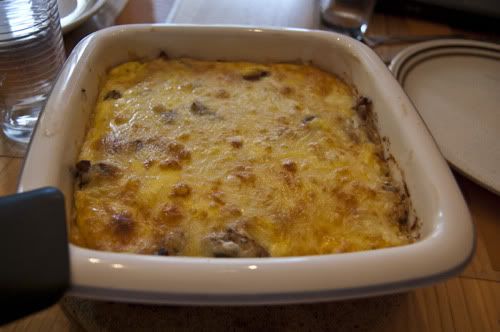 Norsk
0,6 dl finhakket vårløk
1 hvitløksbåt
0,8 dl bacon (ifølge original oppskrift, men bruk gjerne mer)
5 dl skivet sopp (rundt 8 medium champingjonger)
1/2 ts av hver av timian, basilikum, oregano, persille og rosmarin
3 store egg
1 3/4 dl kremfløte (eller soyafløte)
3,5 dl ost(bruk gjerne flere typer)
en halv medium plommetomat
- Stek løken, soppen og baconet i smør, og tilsett urtene.
- Bland egg og fløte i en bolle for seg.
- Spre kjøtt og champignon i en smurt, ildfast form.
- Strø osten over og hell over eggeblandingen.
- Skjær evt en tomat i tynne tynne skiver og fordel på toppen.
- Stekes i 25- 30 minutter på 175ºC.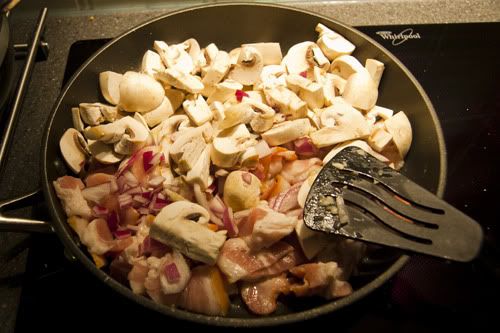 English
0,6 dl finely chopped spring onions
1 garlic clove
0,8 dl bacon (according to the original recipe, but do use more if you wish)
5 dl sliced mushrooms (abrox 8 medium champignons)
1/2 ts of each: thyme, basil, oregano, parsley and rosemary
3 large eggs
1 3/4 dl cream (or soy cream)
3,5 dl cheese (feel free to use several types)
half a medium plum tomato

- Fry the onion, mushroom and bacon in butter, and add the herbs.
- Mix eggs and cream in a separate bowl.
- Put the meat and mushrooms in a smeared casserole dish.
- Cover it with the cheese and pour the egg mixture over.
- Cut a tomato in thin slices and spread it on the top.
- Put in the oven at 25-30 minutes at 175ºC.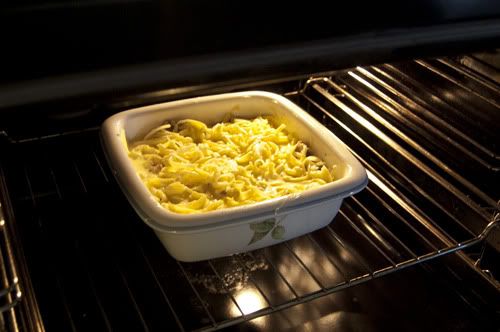 Source