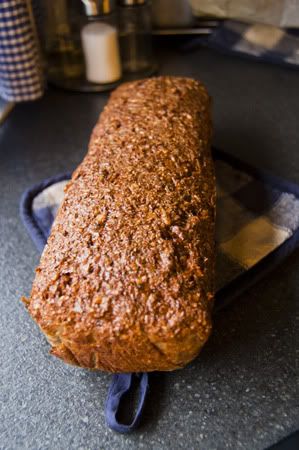 Norsk
-
Basis
1 beger cottage cheese
5 store egg
1/2 dl olje
-
Melblanding
3 ts bakeplver
3 ts splenda (eller lignende)
2 ts salt
2 ts fiberhusk
2 ts johannesbrødkjernemel
60 g kruskakli
4 ss glutenmel (IKKE glutenfritt mel)
En liten håndfull linfrø
75 g valnøtter
40 g solsikkefrø
- ELLER -
70 g solsikkefrø
40 g sesamfrø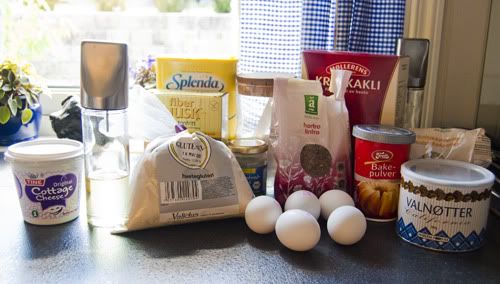 - Når du har mikset basisen, rører du bare inn resten, som du har blandet ferdig på forhånd.
- La det stå i 10-15 minutter for at JBK og fiberhusk skal få virke.
- Deretter har du det over i en brødform (ca 1,5 liter) som er foret med bakepapir. Press det ned og glatt over overflaten.
Stekemetode - for skorpe!
- Sett inn brødet på 180°C i 25 minutter.
- Skru ned til 150°C og la det stå i 40 minutter.
- Ta brødet ut av formen og bakepapiret og legg tilbake i ovnen på rist. Skru opp igjen til 180°C og la det stå i 15-20 minutter.
- Avkjøl på rist.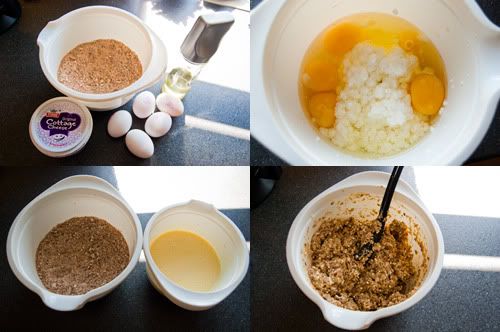 English
- Base
300 cottage cheese
5 large eggs
1/2 dl edible oil

- Flour mixture
3 ts baking powder
3 ts splenda (or similar)
2 ts salt
2 ts psyllium seed husks
2 ts locust bean gum
60 g wheat bran
4 ss gluten flour (NOT gluten free flour)
A small handful of flaxseed

75 g walnuts
40 g sunflower seeds
- OR -
70 g sunflower seeds
40 g sesame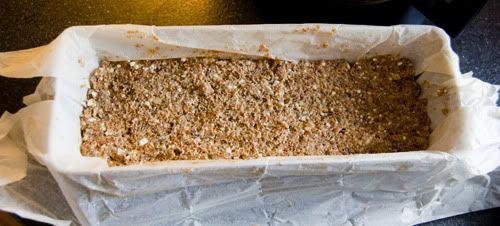 - When you hav mixed the base, add the rest, which you've mixed in advance.
- Let it rest for 10-15 minutes to let the JBK and psyllium work their magic.
- Put everything in a bread pan (1,5 liter) which is lined with parchment paper. Press it down and smooth across the surface.

The cooking method - for the crust!
- Put the bread in the oven at 180°C for 25 minutes.
- Lower it to 150°C and leave it in for 40 minutes.
- Take the bread out of it's tin and the parchment paper and put it bake in the oven on a grid. Turn the heat back up to 180°C and leave it there for 15-20 minutes.
- Cool the bread on a grid.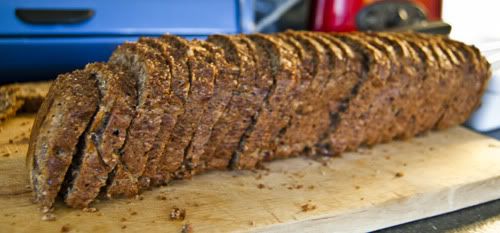 Source