Sukkerfri lavkarbopai
Norsk
470 g rabarbra
100 g jordbær
1 dl sukrin
1 dl (5 g) splenda
Paibunn:
50 g mandelmel
24 g kokosmel
18 g glutenmel (IKKE glutenfritt mel)
20 g hakkede valnøtter
120 g smeltet meierismør
1/2 dl sukrin
- Bland paibunnen i en bolle og trykk ut i paiformen
- Hakk rabarbra i biter og strø med sukrin og splenda
- Legg rabarbra i paiformen og strø med jordbærbiter
- Stekes på 200°C i 13-15 minutter
(Denne oppskriften kan like gjerne brukes som smuldrepai, men trekk 20g smeltet smør fra oppskriften og hell det over paien før den settes i ovnen)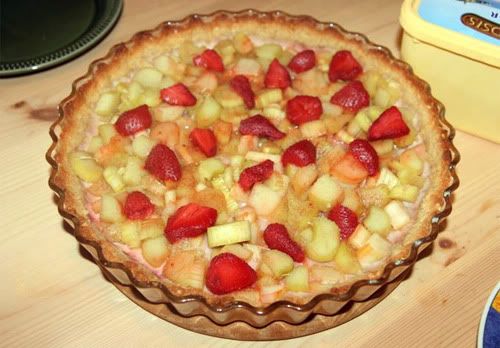 English
470 g rhubarb
100 g strawberries
1 dl erythritol
1 dl (5 g) splenda

Crust:
50 g almond flour
24 g coco flour
18 g gluten flour (NOT gluten free flour)
20 g chopped walnuts
120 g melted butter
1/2 dl erythritol

- Mix the crust in a bowl and press it out in a pie dish
- Chop rhubarb in pieces and sprinkle with erythritol and splenda
- Put rhubarb in the pie dish and sprinkle with strawberry pieces
- Put in oven at 200°C for 13-15 minutes
(This recipe might as well be used for crumble pie, but subtract 20g melted butter from the recipe and pour it onto the pie before you put it into the oven)
Source? What? No, this one's all mine. I'm gonna tag this as vegan... assuming that vegans have a good butter replacement.