Norsk
2 kyllingfileter i biter
1 boks rømme/crème fraiche
100 g philadelphiaost
1 stor SS tomatpuré
1 ts garam masala
salt og pepper etter smak
1/2 rød løk
tre champignon
1/4 rød paprika
Stek kylling og grønnsaker i smør og krydre. Når kjøttet er gjennomstekt, hell over rømme/CF og osten. Blandblandbland og rør til slutt inn tomatpureen og la det surre noen minutter. Dette er for øyeblikket livretten min. Ikke bry deg om garam masala-målet, ha på så mye du vil!!!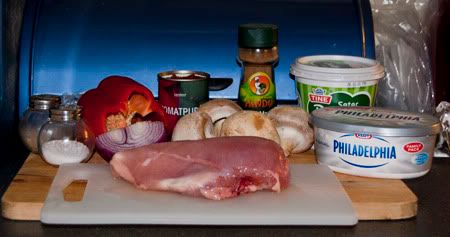 English
2 chicken breasts
1 300g box sour cream/crème fraiche
100g cream cheese
1 big table spoon tomato puree
1 tea spoon garam masala
salt and pepper to taste
1/2 red onion

Fry the chicken and the vegetables in butter and add the spice. When the meat is done, add sour cream/crème fraiche and cream cheese and eventually add the tomato puree. Let it simmer a few minutes. This is at the moment my favourite dish. Don't worry too much about the garam masala measurement, add as much as you like!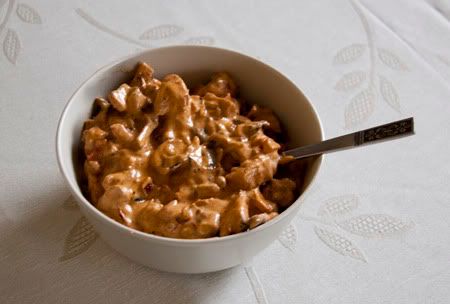 Source