Lavkarbomarsipan
Norsk
90 g mandelmel eller 180 g finmalte mandler
60 g SukrinMelis
2 eggehviter
(1-3 dråper mandelessens)
Bland alt i en bolle og smak deg frem. Blir blandingen for bløt er det bare å tilsette mer mandelmel (kommer an på melet). Etter 15 minutter i kjøleskapet former du marsipanen som du vil, dypper i smeltet kokesjokolade (minst 70% kakao) og strør med kokos.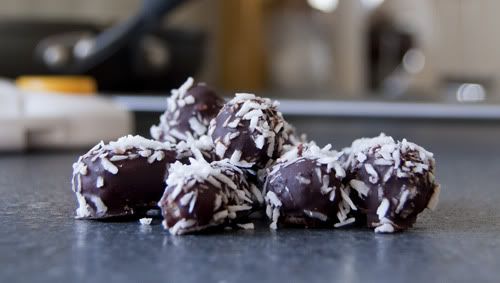 English
90 g almond flour or 180 ground almonds
60 g powdered erythritol
2 egg whites
(1-3 drops of almond essence)

Mix it all in a bowl and taste your way (:P). If the mix is to soft, just add more almond flour (depends on the flour). After 15 minutes in the fridge, you may shape the marzipan as you please, dip it in melted chocolate (at least 70% cocoa) and sprinkle with coco.
Source