Norsk
300 g kyllingbiter
100 g bacon (eller etter smak)
100 g sopp
Frisk basilikum eller bladpersille
Fløtesaus
2,5 dl fløte
0,5 terning hønsebuljong
1-2 ts pesto
1-2 ts dijon sennep
sort pepper
parmesanost
1/2 gul paprika i små biter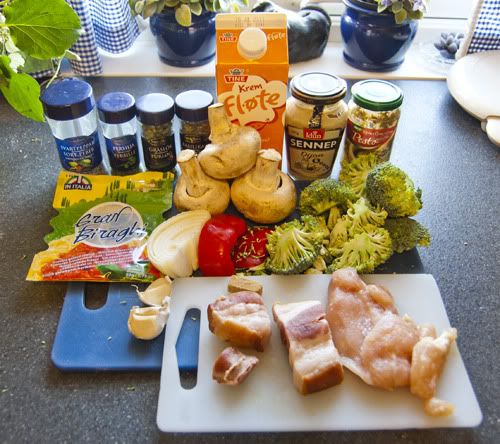 - Kok opp fløten sammen med hønsebuljong og tilsett pesto, dijon sennep, parmesan og paprika. La den småkoke mens du steker kylling, sopp og bacon i smør.
- Bland alt sammen og rør inn friske urter (jeg bruker krydder).
- Ikke tilsett noe salt! Med buljongterningen og bacon er det ganske salt allerede.
Supert sammen med
"ris"
og løk (gul, rød, hvit, purre...).
English
300 g chicken chopped in pieces
100 g bacon (or to taste)
100 g mushroom
Fresh basil or parsley

Cream sauce
2,5 dl cream
0,5 cube chicken bouillon
1-2 ts pesto
1-2 ts dijon mustard
black pepper
parmesan cheese
1/2 yellow paprika in little pieces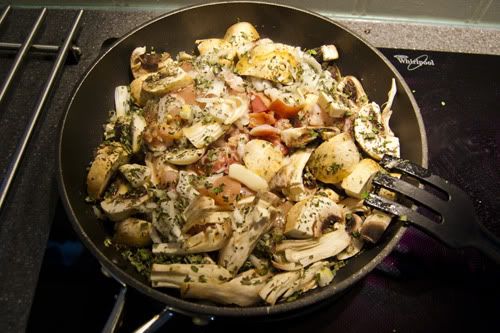 - Boil the cream with chicken boullion and add pesto, dijon mustard, parmesan and paprika. Let it boil while you fry the chicken, mushroom and bacon in butter.
- Mix it all together and add the fresh herbs (I use spice).
- Don't add any salt! With the boullion cube and bacon it's pretty salt already.

This is great with "rice" and onion (yellow, red, leek, garlic).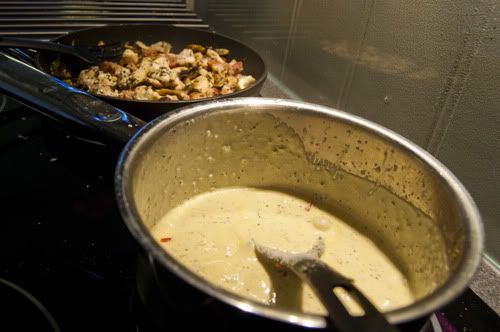 Source