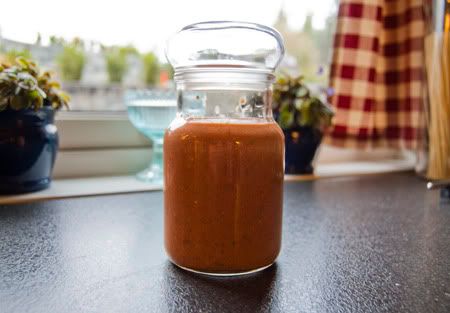 Norsk
1 boks hakkede tomater
1-3 hvitløksfedd
1/2-2 hele røde chilli eller piri-piri-pulver etter smak
fersk/frossen persille/koriander etter smak
1-2 ts tomatpuré
evt crème fraiche/rømme/yoghurt
paprikapulver for farge
salt og pepper
heftig mye garam masala (dette får du billig hos Tahir i Dronningens gate)
(evt fersk revet ingefær)
Dette var bedre enn det man får på glass i butikken! I tillegg er det fantastisk med fløte, men kanskje er det lurt å tilsette når man blander det hele i stekepannen med kylling, sopp, paprika, løk og hva enn man måtte ønske. Jeg hadde ikke rød chilli, piri-piri-pulver, eller fersk/Frossen persille eller koriander. Så, jeg brukte chillipulver, koriander og persille på krydderglass. Pøs på med garam masala på det du har i stekepannen også.
English
1 400g box chopped tomatoes
1-3 garlic cloves
1/2-2 whole red chilli or piri-piri powder hele røde chilli or piri-piri-pulver to taste
1-2 tea spoons tomato puree
You may also use crème fraiche, sour cream or yoghurt
Paprika powder for colour
salt and pepper
LOTS of garam masala
(you may also use fresh ginger)

This was a lot better than the stuff you can buy in jars at the store. In addition it's delicious with cream, but it could be wiser to add it when mixing it on the frying pan with chicken, champignon, paprika, onion and whatever you might wish. I didn't have piri-piri powder, or fresh/frozen parsley or coriander. So, I used chilli powder, coriander and parsley spice. Do add lots of garam masala on the frying pan as well.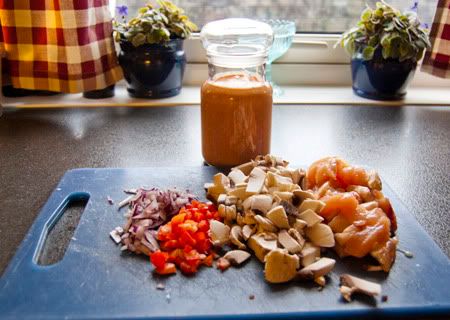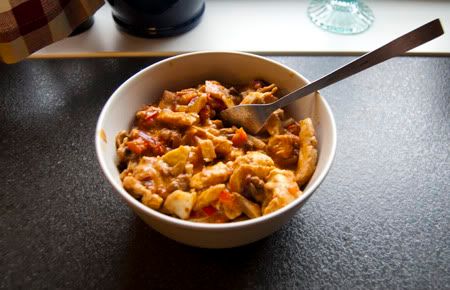 Source
See also
-
Dinner idea: tikka masala with "rice"